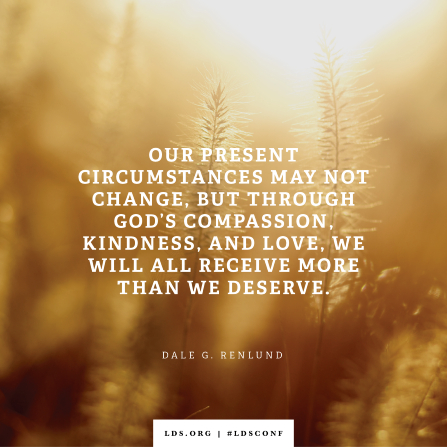 I treasure the memories and experiences that I was able to have on my mission. I feel like I was able to see God in the details of my life every minute, hour, day. I felt His infinite love, shown in the little blessings that He granted to me and those around me, based on our faith.
I remember one family in particular that was struggling financially. This little family consisted of a young couple and their five year old daughter, and they were working to be sealed in the temple. One HUGE obstacle that they faced was the unemployment of the father. He quit his job as he was returning to the church because his hours made him work on Sunday and didn't allow him to attend Sacrament Meeting. He had done this on the premise that he would be greatly blessed for his sacrifice, but after a year of waiting for a job, desperation was overtaking the faith that he had once had.
I was in awe and heartbroken as I talked to the father of this family. I marveled at his incredible faith and endurance and wondered how I would feel after a year of relying on another person's income to support my family. He confided that although he quit his job with faith that things would work out in the end, he was beginning to feel abandoned by Heavenly Father.
An incredible scripture in the Bible promises that "Eye hath not seen, nor ear heard, neither have entered into the heart of man, the things which God hath prepared for them that love him." This man was having such a hard time opening his eyes to see the blessings that Heavenly Father had in store for him. Desperately, my companion and I tried to open his eyes. After a quick lesson on faith, we came up with an eye-opening plan of action. We would fast with this family for one day, the whole time praying that they would be able to find work ... and then see what blessings the Lord had already prepared for this faithful family.
The day of the fast was one of the hottest days of the year. When anticipating what the effect of climbing up hills in that heat would be like after a day without food or water, I thought that my sweet companion and I were going to die. However, we completed our fast. With faith, we prayed for a miracle.
A day or two later, our phone rang. The father found a job.
Some people might chalk that occurrence up to coincidence. However, I truly believe that Heavenly Father had a part in ensuring that our faith and the faith of this little family didn't go unnoticed. He was in every detail of their lives. Because I was able to plainly see that, I was also able to learn that Heavenly Father is also VERY personally aware of every single one of us.
For all of my life, I have tried really hard to do what Heavenly Father has wanted me to do. I feel like that is really what it means to LOVE Him. He asks me to seek His will and obey. In return, He promises to guide me and those blessings that my natural eyes cannot see right now. I have made so many seemingly wacky decisions in my life based on promptings that I have felt (i.e. fasting on the hottest day of the year ... or homeschooling my junior year of high school) that my dad once remarked (jokingly) that my God is a God that doesn't make sense.
Although my decisions have sometimes not made a lot of sense, I have found so much pleasure and comfort as I have moved forward in my life relying on Heavenly Father's perfect wisdom. This daily struggle that I go through has helped reinforce the idea to me that Heavenly Father is perfectly aware of my needs. He is intimately involved in my life. He has protected me from the evil influences in the world by surrounding me for as long as I can remember with wonderful friends, both inside and outside of the church. He gave me the best family I could ever hope to have. He has granted me my wildest dreams.
Sometimes, I am blind to the blessings that the Lord has perfectly placed in my life. Getting distracted is pretty easy in today's world. However, every time I take a moment to open my eyes to the wonderful blessings that surround me, I am filled with awe. The little glimpses that I get of eternity and the happiness that I feel when that happens makes me think that we have a whole lot to look forward to after this life ... if only we will love Heavenly Father enough in the meantime to trust that He will help make everything right in the end.